It's a fiercely competitive world out there for the carpet cleaning company. You need every edge you can get.
Introducing the
Surface Care Knowledge Center Program
If you are a savvy marketing person you understand how important strong web presence is and how powerful video and other quality content is today for driving your business and converting prospects to customers. At I.E. Productions we understand this as well and have carefully crafted a program for your website that features …
Videos
Videos that answer the most important questions your customers need to know in a captivating and compelling way, each one branded with your logo, including such relevant topics as…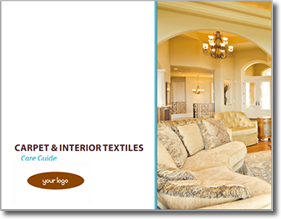 Carpet and Interior Textiles Care Guide
in a PDF format prominently placed on your Knowledge Center interface, for customers and prospects to download, or you can email it to your customers. Your care guide will come personalized with your brand and company information. Your customers will want to keep this beautiful and information rich guide on hand, ensuring your name is at their fingertips.
---
Use your care guide to drive your marketing efforts. For example…
Say "Thanks" to your customers after every job by sending them an email note and attach your care guide. Want to make that email especially effective? Ask for a review in your email message. Providing a link to your Google Plus page or Yelp! Page makes it so easy for them to provide you with a review! (Did we mention how important reviews are…?) Learn more power tips in the Owners Manual that comes with your program.
---
I bet you're wondering how long it will take to get set up…
We can get your app ready and installed for you generally within a few days. (If you're in a hurry we can get it done in as soon as two business days.)
Just think, in just a couple of days you could be sending out your beautiful Carpet and Interior Textiles Care Guide to your entire customer list.
Your custom intro page can feature all of your services, remind readers where to go for your latest coupons and specials, and encourage them to pass the care guide around freely. In a nutshell, it is not just representing you well, it's helping to drive your business.
In just a couple of days your videos can be published on the web, featured on your site and used in your emails (even your email signature), sales presentations, and more.
There's more…
You will receive updates on new available videos to add to your collection. You can pick and choose the ones you want. Topics will include:
Commercial Carpet Cleaning, Upholstery Cleaning, Leather Cleaning, Care Tips (and dispelling common myths) Window Treatments, Vehicle Interior Carpet Cleaning, and more.
---
Have some ideas for videos? We're getting a lot of great input and look forward to hearing your ideas for videos to produce in this program.
---
Looking for ways to get the most bang for your buck?
We'll include our booklet, Owners Manual: Maximizing the Value of Your Knowledge Center Web App featuring 17 Creative Ways to Use Video and How to Maximize the Value of Your Care Guide To Drive Your Business. We want you to be incredibly successful with this program so we'll inspire you with some ideas.
For example, in addition to the app being featured prominently on your site, this booklet will provide some creative ideas for leveraging them to drive many aspects of your marketing strategies. Use them on your social media pages, use them in your email marketing… Doing a home show? Sales presentations? What about digital displays in your strategically developed alliance partners' showrooms? Even your email signature can include your videos.
Want to see how other companies are using this program?
Here are a few sites to check out:
---
How important is video in marketing today?
Forbes named 2015 the year of video marketing and it is projected by 2018 watching video will make up 80% of web browsing. Need more reasons why video is so important?
Converting visitors to customers — 52% of consumers feel more confident about a product or service after viewing a video on it. (Internet Retailer)
Video on your site substantially increases your chances of first page placement on search engines — up to 53 times greater. (Forrester)
Adding video to email creates 2-3 times as many click-throughs. (Forrester)
You Tube is now the second largest search engine (second only to Google!)
Ok, now for the bottom line. What's the cost?
It's important to us to make this program affordable. We are offering it for an introductory price of $995, payable in 2 payments, one on order placement, the balance due on completion.
The price includes the app installed on your site featuring your choice of 2 videos, branded with your logo, the Carpet and Interior Textiles Care Guide, branded and personalized for you and the bonus booklet to inspire you with ideas.
Subsequent videos will be available starting at $375 each (all branded with your logo.)
Questions? Call us at (877) 842-8249